Not fully mashed, these 'Smashed' Potatoes are made in the Instant Pot and seasoned with my new favorite seasoning, garlic pepper. And butter. Lots and lots of butter. 🙂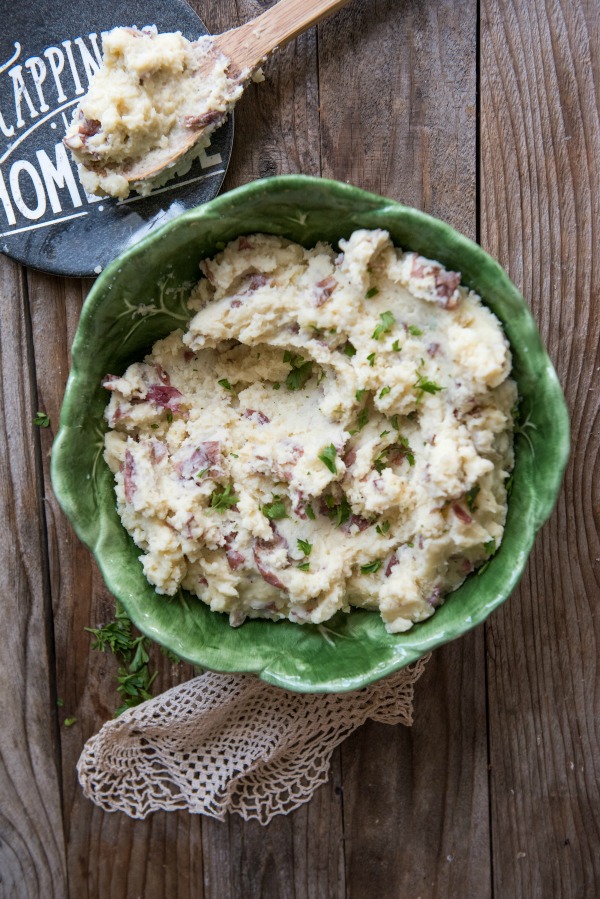 Why oh why did I drag my feet for so long before buying an electric pressure cooker? I swear that each time I use the Instant Pot I fall more in love with it. I feel like I'm just starting to realize it's potential. But let me tell you this: I'll never make mashed potatoes any other way. This was without a doubt the easiest way to cook potatoes. And the most time effective. And mindless as I didn't have to babysit a pot of boiling potatoes on the stove.
Like I said, I'm sold.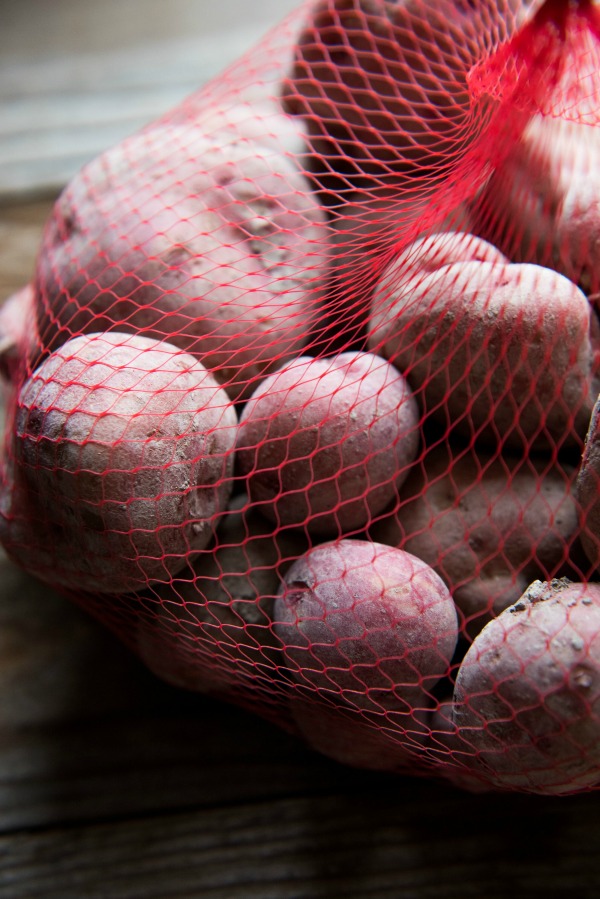 A few months ago we celebrated my Dad's 70th birthday. His favorite holiday and meal is a traditional Thanksgiving spread so that's how we celebrated. Somehow making a turkey dinner in early September feels like you're getting away with something. It was so much fun (and obviously super delicious) I couldn't help but think I really should make a turkey dinner more than just on Thanksgiving!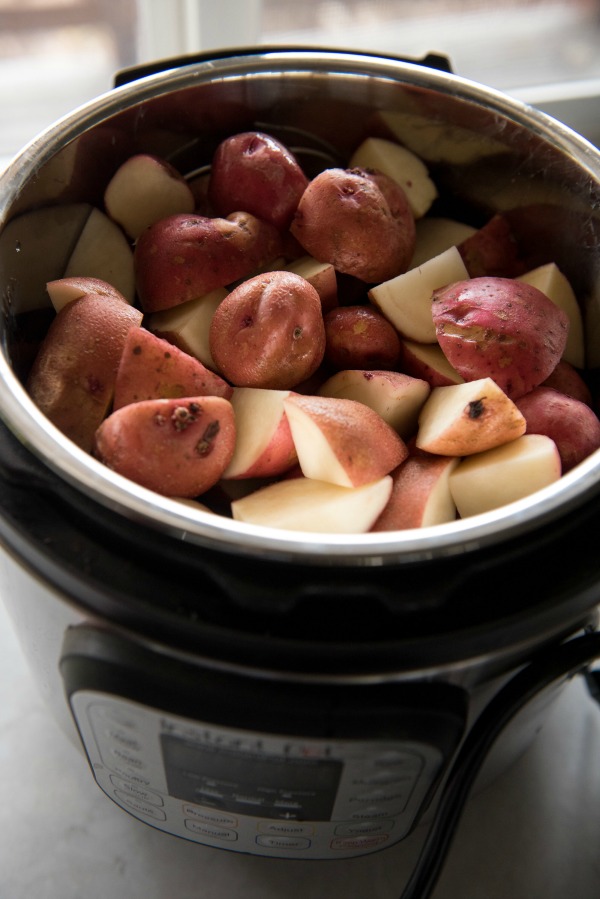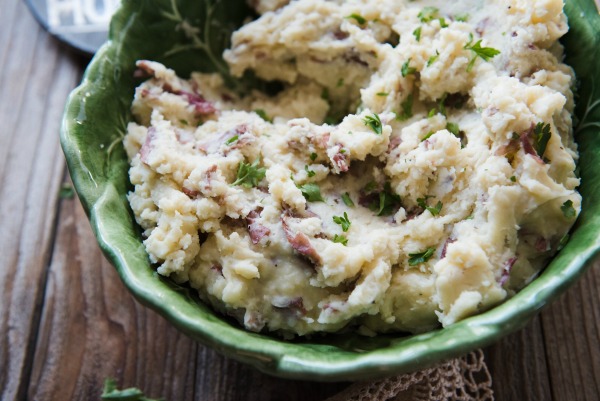 My cousin's wife's mom (yep, we're a big 'ol happy extended family up in here) brought the most delicious mashed potatoes. Being a family of mashed potato connoisseurs, we all raved about them and asked her how she made them. She ticked off the usual suspects- half and half, butter, salt. But then she said she likes to mix in a healthy dash of garlic powder. I'd never even heard of it but you can bet I picked some up my very next grocery store run. I'm now putting it on just about everything.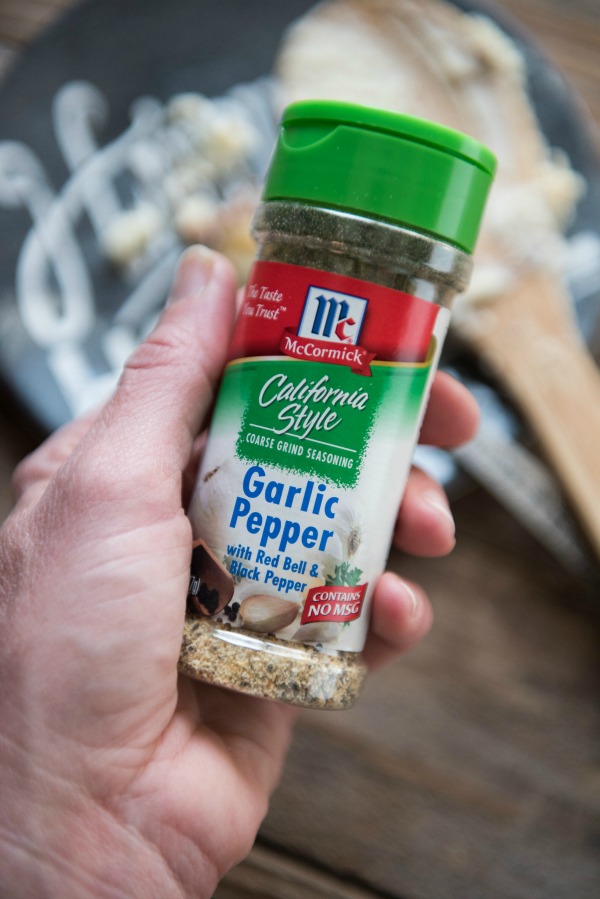 While Wendy fully peeled and mashed her potatoes by whipping them in a stand mixer, I went the more rustic route. (Yep, the easy way!) I used local red skinned potatoes and left the skin on. The skin is a little sweet, chocked full of nutrients, and I just happen to love the chunky texture. I did keep follow suit by adding half and half and an unreasonable amount of butter because, duh! It's the only way to do it!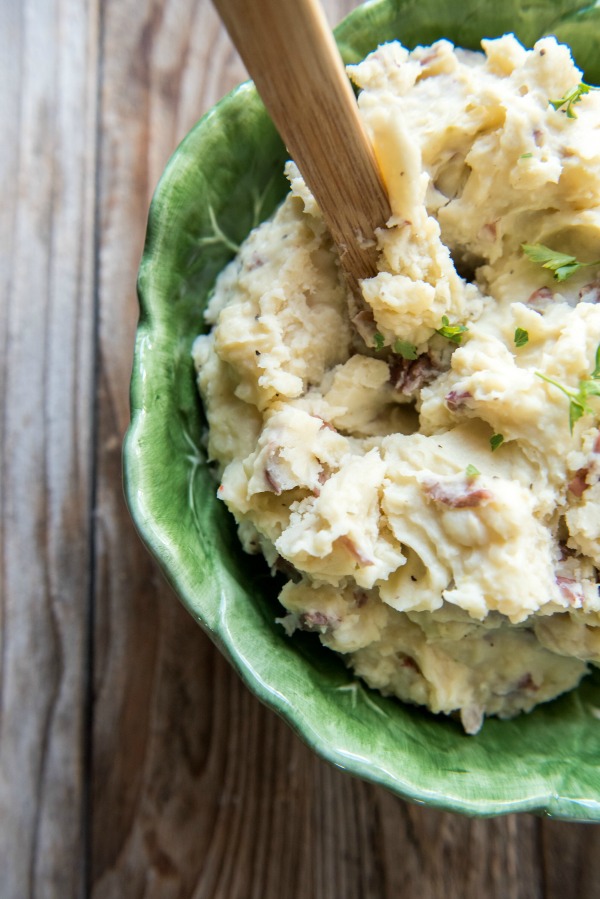 You could easily cook your potatoes by boiling or steaming them but I urge you to try the electric pressure cooker if you have one. Total game changer. And pick up some garlic pepper! It's not overly peppery and is such a nice addition. Just the right amount of garlic and spice. These will for sure be making an appearance on our Thanksgiving table!
Instant Pot Garlic Pepper Smashed Potatoes
Ingredients
5 lbs red potatoes, washed and quartered
1 1/2 cups water
1/2 cup (1 stick) butter, melted
1/2-1 cup cup half & half
1 teaspoon kosher salt
1-2 teaspoons garlic pepper
Instructions
Place the wire rack that came with your Instant Pot in the base. Place the potatoes on top. Make sure your potatoes don't exceed the 'max fill' line. 5 lb. fit perfectly! Pour the water over the top.
Secure the lid on the Instant Pot, making sure the valve is set to "seal" and not "vent."
Cook on "high pressure" for 12 minutes.
Meanwhile, melt the butter in a small sauce pan on the stove top just until the butter is melted. Keep warm until the potatoes are done cooking.
When potatoes are finished, quick release steam and open pot.
Drain the potatoes in a colander over the sink, discarding the cooking liquid.
Return the potatoes to the insert of the Instant Pot and add the melted butter and 1/2 cup of the half & half. Mash until the potatoes are the desired texture- as smooth or as chunky as you like- adding more of the half & half if you want a more decadent, smooth masher! (I added the full 1 cup)
Season to taste with the salt and garlic pepper.
Serve immediately or you can return the insert to the Instant Pot, secure the lid, and select 'keep warm'. The potatoes can stay on this setting for up a few hours.
When ready to serve, give the potatoes a good stir and add a few tablespoons of half & half to loosen them up! Enjoy.
http://www.mountainmamacooks.com/2017/11/instant-pot-garlic-pepper-smashed-potatoes/
photos by Kellie Hatcher/ recipe by Mountain Mama Cooks