The pressure cooker strikes again. This Instant Pot Cauliflower Soup is silly easy to prepare, it's absolutely delicious, and on the table in just under 30 minutes. My favorite kind of recipe!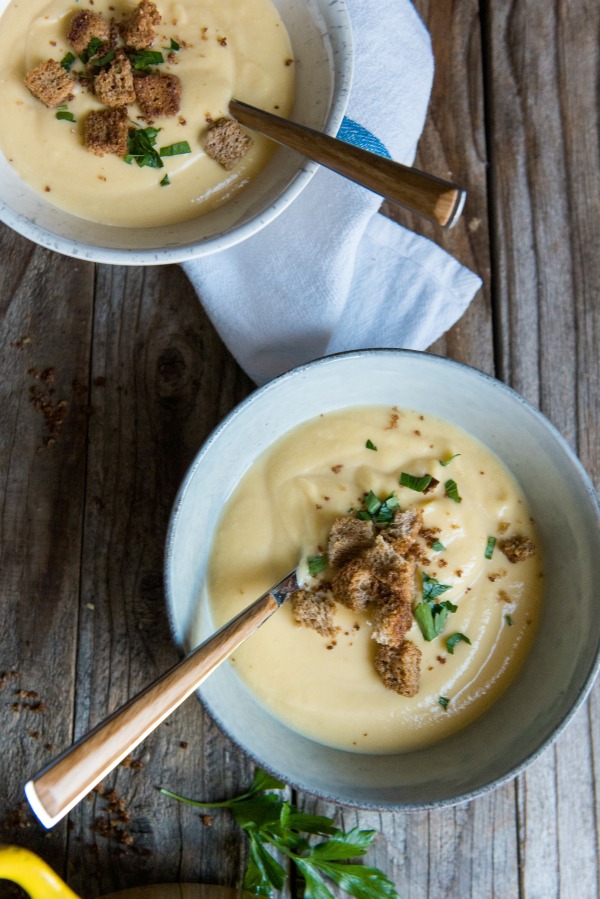 Do you have a pressure cooker? I'm new-ish to the game as I've only had my Instant Pot less than a year and haven't really used it all that much but the more I use it, the more I love it. I was a little intimidated at first but it's so darn easy to use that I find myself using it more and more. It's just extremely user friendly and the recipe possibilities are endless!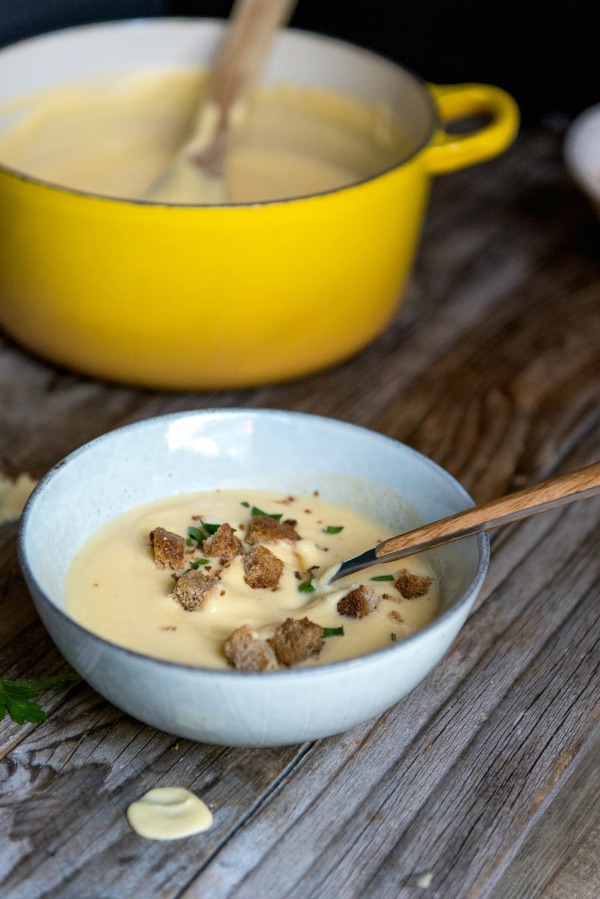 I mostly use my pressure cooker to make dried beans (a total game changer for high altitude cooks!), hard boiled eggs, and soups. I've only used it once to make a pot roast and it wasn't nearly as good as my slow cooker so not sure if I'll venture down that road again. My friend, Barbara, just wrote a pressure cooker cookbook and I can't wait to get my hands on it. Until then, I'm sticking with simple recipes like this soup!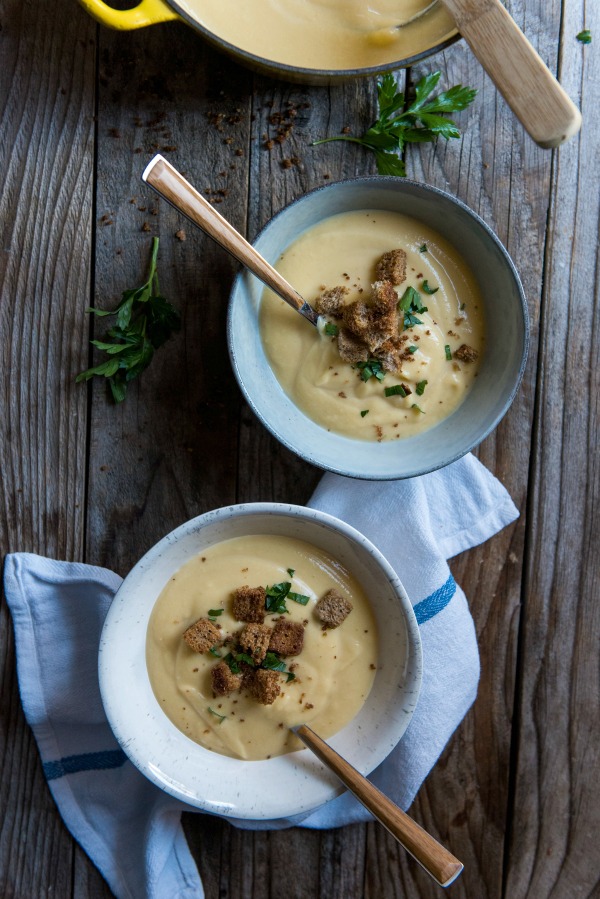 This soup is loosely based on the Zupas cauliflower cheese soup. As much as I love that soup, I don't like the way it makes me feel after I eat it. It's just too rich for me. This homemade version suits my tastebuds and the way our family eats so much better. While it still has cheese and cream, it has way less than I imagine what the Zupas soup has! This soup isn't heavy and making it at home makes it so much easier to control the quantity and quality of ingredients that I use. I used a mix of white and orange cauliflower and shredded sharp cheddar.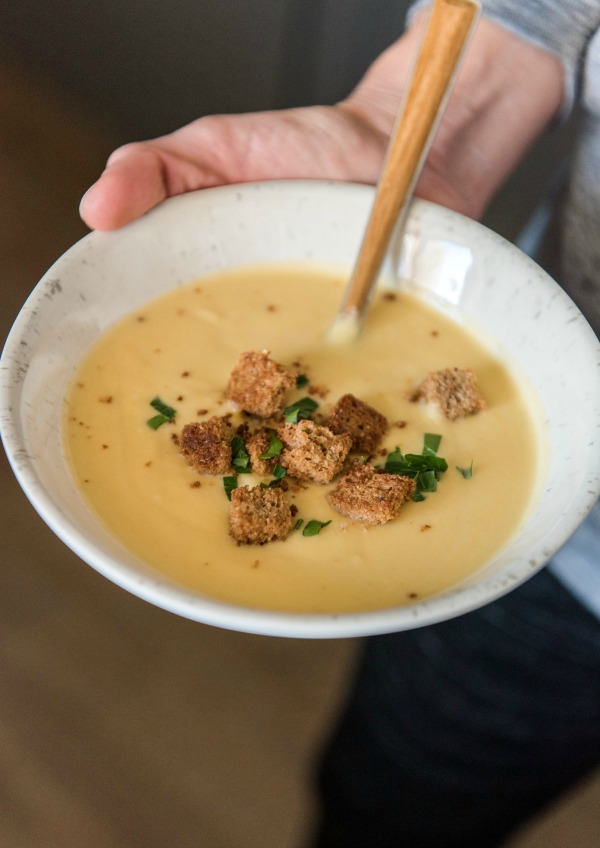 We were blessed with the most gorgeous weather this weekend. We spent much of the weekend outside in the sunshine and taking it easy. It's supposed to turn colder later in the week and the forecast is calling for snow. I know lots of folks aren't ready but I say bring it on! Cold weather = soup weather. Kind of hard to argue with that!!
Thanks for reading and have a great week! xo, Kelley
Instant Pot Cauliflower Soup
A 30 minute, vegetarian soup recipe thanks to the pressure cooker. It's hearty without being heavy and the perfect cold night dinner.
Ingredients
for the soup:

3 tablespoons butter
1 small onion, diced
1 carrot, diced
1 large or 2 small heads of cauliflower broken into small florets (about 8 cups)
4 cups vegetable stock
1 cup shredded sharp cheddar cheese
1/2 cup heavy cream
1 teaspoon kosher salt
1/2 teaspoon ground black pepper

for the croutons:

5 slices whole wheat sandwich bread, cubed (about 2 cups)
2 tablespoons butter, melted
kosher salt
garlic powder
Instructions
Preheat oven to 325F degrees.
Turn the Instant Pot on to sauté mode and add the butter. Once melted, add the diced onion, carrot and a pinch of kosher salt and cook 2-3 minutes, just until the onion is softened. Add the cauliflower florets and vegetable stock to the pot. Lock the Instant Pot lid into place. Using the manual setting, cook the soup on high pressure for 5 minutes. Quick release the pressure.
While the soup cooks, make the croutons. Add the cubed bread to a large rimmed baking sheet. Drizzle the melted butter evenly over the bread and then sprinkle with a large pinch of kosher salt and medium pinch of garlic powder; toss to combine. Bake the croutons in a preheated oven for 12-15 minutes until golden and starting to brown at the edges. Remove from oven and let cool.
Remove Instant pot lid. Carefully, use an immersion blender or high powered blender to puree the soup. I used my Vitamix and pureed the soup in 2 batches though an immersion blender would be easier so you can keep the soup in the Instant Pot! If using a blender, put soup back into Instant Pot.
Turn the Instant Pot to the warm setting. Add the grated cheese, cream, salt and pepper. Stir for 2-3 minutes to melt the cheese and warm the soup through. Adjust seasoning if needed.
Ladle soup into bowls and top with a handful of croutons and a pinch of fresh parsley if desired.
http://www.mountainmamacooks.com/2017/10/instant-pot-cauliflower-soup/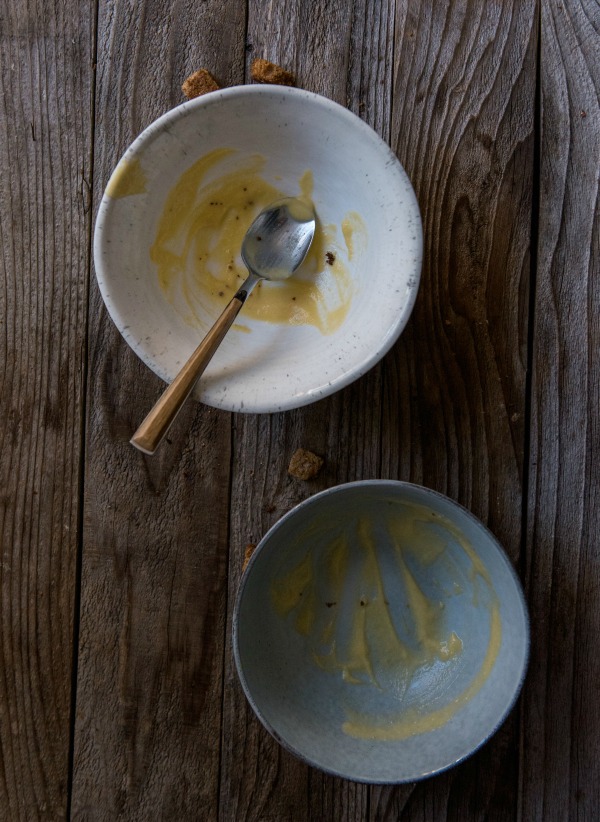 Photography by Kellie Hatcher/ Recipe by Mountain Mama Cooks