About a month ago, I stumbled upon a new to me blog, High Altitude Bakes. Written by a trained pastry chef living in the mountains of Colorado, all the recipes are adjusted for high altitude. Cha-ching! I felt like I'd hit the jackpot when I found this jem of a site. Drool worthy recipes and a trained pastry chef that loves to hike and fly fish? Most definitely a girl after my own heart!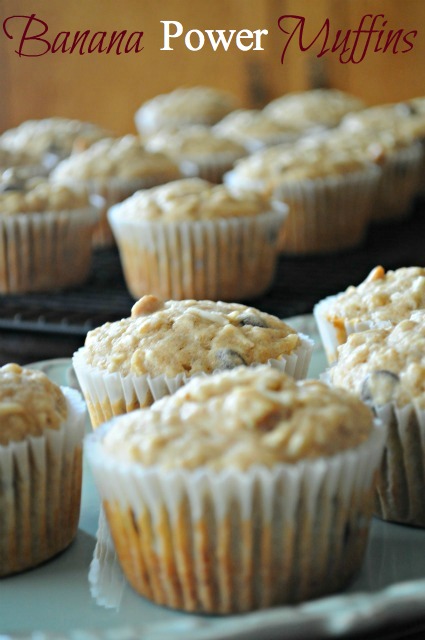 While spending a good part of an afternoon perusing through Megan's site, I came across a recipe for Banana Crunch Muffins. The perfect solution to the nearly dead bananas on my counter that seemed to mock me every time I walked into the kitchen.


Perfectly dense, these loaded banana muffins are filled with flavor but won't leave you feeling weighed down. The original recipe, found here, calls for granola but I didn't have any on hand. So doing what I do best, I improvised by adding quick oats, unsweetened coconut, chopped walnuts and some peanut butter and chocolate chips.
Totally delicious……says the 5 year old.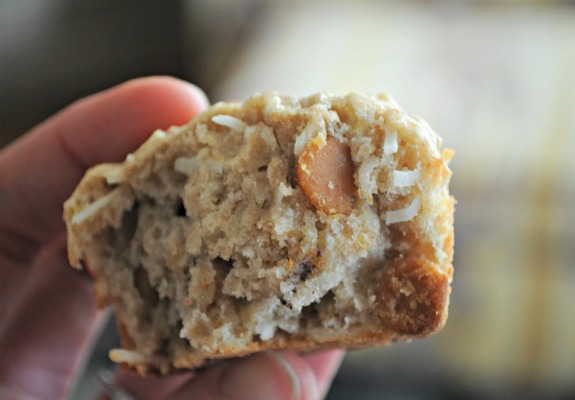 This recipe makes a full two dozen muffins and is too much for us to eat at one time. I threw half of them in the freezer and they froze beautifully. In fact, I'm glad to have had them in the freezer. They make an excellent breakfast on-the-go for hectic mornings and are the perfect choice to throw in your backpack if your hitting the trails for a day hike or mountain bike ride.
Speaking of hiking and mountain biking, Park City couldn't be more beautiful right now. Not too hot, you want to spend the entire day outdoors. It's amazing that I get anything done at all! Hope everyone is having a great week!
High Altitude Recipe for Banana Power Muffins
Ingredients:
2 cups whole wheat pastry flour
1 cup all purpose flour
3/4 cup pure cane sugar
1 teaspoon baking powder
1/2 teaspoon salt
1/2 teaspoon ground cinnamon
2 sticks butter, melted and cooled
2 eggs
3/4 cup almond milk
1 tablespoon pure vanilla extract
3 ripe bananas
1 cup oatmeal
1 cup unsweetened coconut
1/2 cup chopped walnuts, toasted (or other favorite nut)
1/2 cup semi sweet chocolate chips
1/4 cup peanut butter chips
Baking Instructions:
Preheat the oven to 350F degrees. Line two standard 12-cup muffin tins with paper liners.
In a large bowl, combine the flours, sugar, baking powder, cinnamon and salt. (I use a whisk to combine the dry ingredients.) Add the melted butter, eggs, almond milk, vanilla and smashed bananas. Scraping down the sides, blend until well combined taking care not to over mix. Fold in the oatmeal, coconut, walnuts, peanut butter chips and chocolate chips.
Divide the batter evenly among the 24 lined muffin cups. Bake in a preheated oven for 20 minutes until muffins are cooked throughout and a toothpick comes out clean. *Keep an eye on them as my muffins were done before they turned to golden in color. When muffins are done, remove from oven and transfer to a cooling rack to cool completely.
Muffins will last on counter in an airtight container for 3 days. Muffins freeze beautifully and will keep up to a month in the freezer.
*A note: these are adjusted for high altitude (5000-7000 feet). If you want to make them and you're closer to sea level, make these adjustments: Increase sugar to 1 cup, decrease vanilla to 1 teaspoon, increase baking powder to 2 teaspoons and add 1 teaspoon baking soda. Follow baking instructions as written.