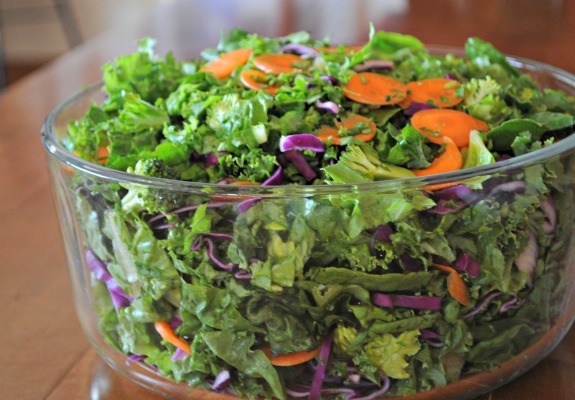 I have to give credit to my mom for this one.
As you might remember, she moved in with me last week to help me recover from knee surgery. While making dinner one night, she made an incredibly large salad. Way more than she or I could eat that night. When I asked her why she was making it so big she said she like to make one big salad early in the week and the eat it over the next few days.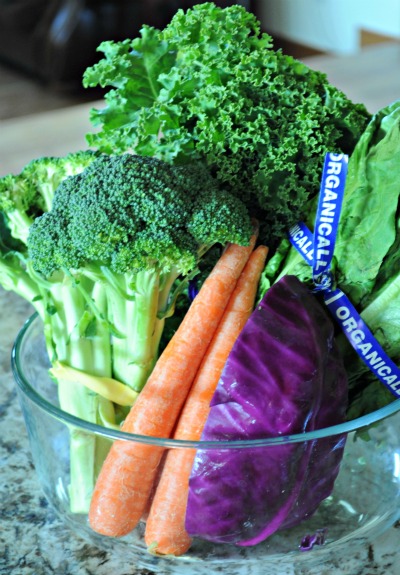 I thought it was such a great idea for two reasons. 1) I don't like pre-mixed salad mixes from the store. They're expensive and I think they have a funny taste to them. 2) I love the idea of having salad that's ready to go whenever I need a light lunch or a quick snack.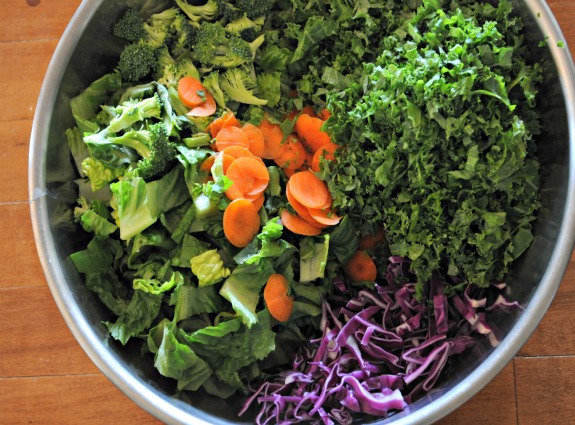 BUT, I don't like soggy salad. Or any soggy vegetable for that matter. So it was important to me to come up with a mix that avoided soggy inducing ingredients but still had a good variety.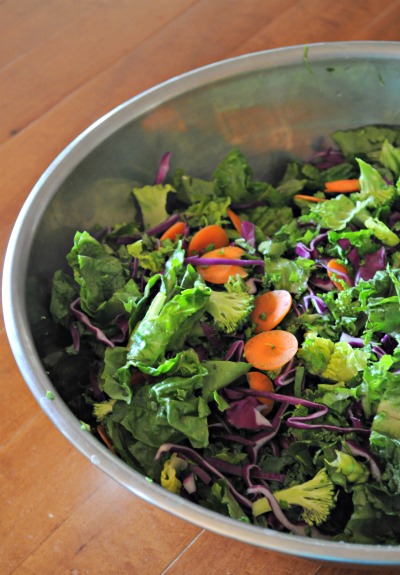 I've done this twice now, once storing the mix in a large ziplock baggie and the other time in a glass container with lid. Go with the glass if you have one. It held up worlds better. We ate the end of the mix 4 days after I originally made it and it was still great.
I picked coarsely chopped romaine and finely chopped kale for the bulk of the greens, adding some thinly sliced purple cabbage and thinly sliced carrot coins. A little bit of chopped broccoli finishes out this DIY organic salad mix.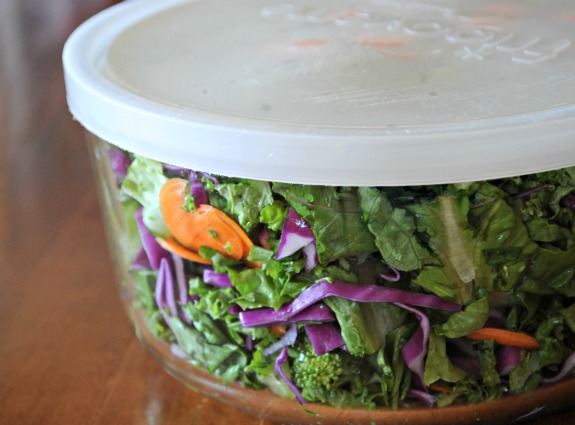 If you're in a hurry, this salad is great on it's own topped with a little homemade dressing. I don't mind taking an extra few minutes to cut up a few things to kick it up making the salad a meal. My favorite combo of late is to add a few cherry tomatoes, some diced avocado, drained canned garbanzo beans, and a handful of raisins and cashew nuts.
Get your greens on!!
DIY Organic Salad Mix
Ingredients:
1 head romaine lettuce, coarsely chopped
1 head kale, finely chopped
1/2 head small purple cabbage, thinly sliced
2 small carrots, thinly sliced into coins
about 1 1/2 cups chopped raw broccoli
After washing and cutting all the vegetables, combine in a large bowl to toss to combine. Store salad mix in a glass bowl or other bowl with tight fitting lid. Use the salad mix over 5 or so days!