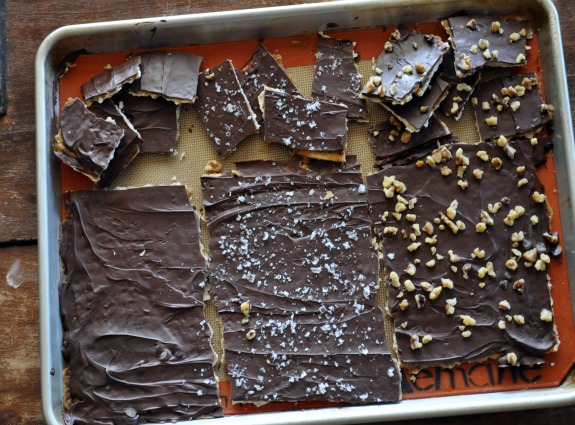 Do you ever have a really, really, really good idea only to find out after googling it that 67,341 other people had it first?
I honestly thought I was a genius with this one. Passover is this weekend and I was trying to come up with an easy dessert. After seeing my friend Alison's Passover S'mores I had a lightbulb moment when I thought I'd try making saltine cracker toffee (commonly referred to as Christmas Crack) but with……….wait for it………..matzo crackers.
Yeah, I know. It's been done before.
So apparently not only am I NOT a genius but I've also been living under a rock.
Talk about bursting the bubble.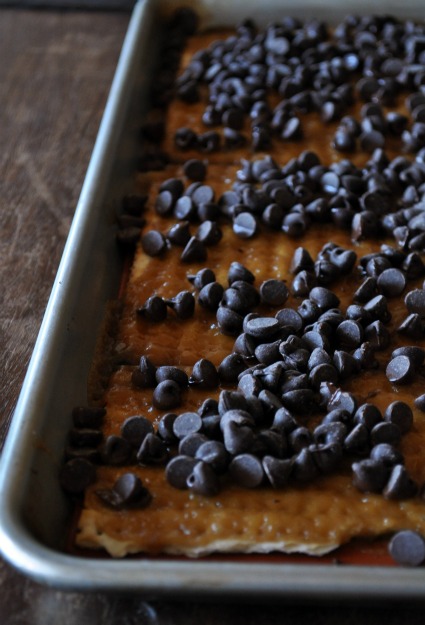 Who knew Jewish Bubbie's have been making this passover treat for years? Not the girl that grew up in Utah with two Catholic grandmas that's for sure.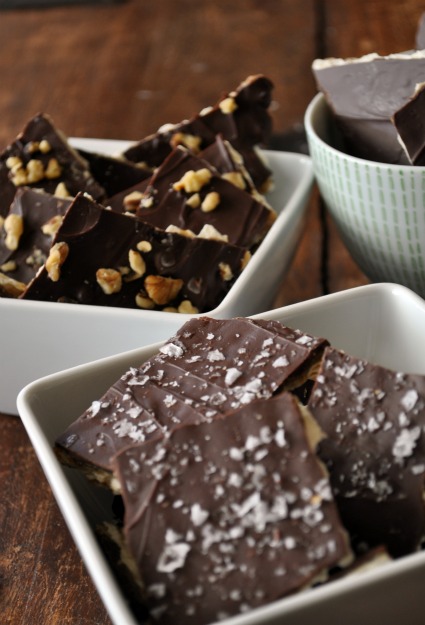 But you know what? I don't care. It's new to me. And it's passover this weekend. And it's my blog. So what the hell. Here you have it.
Passover Matzo Toffee three ways.
Plain jane. Salted. And with chopped Walnuts.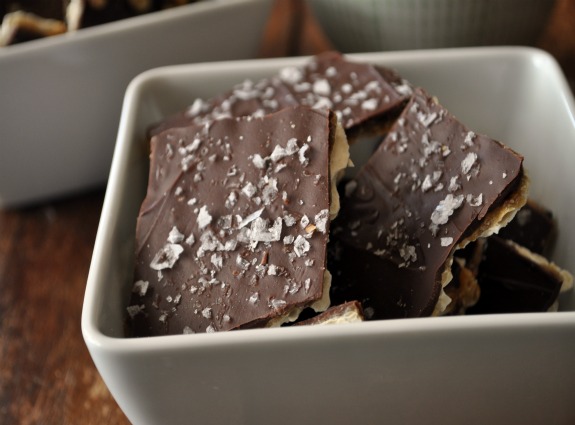 Have you ever had saltine cracker toffee? If you haven't you must. And this matzo version is just as good. Dare I say better? Watch out though, it's impossible not to eat way too much. Be careful with this one it's addictive.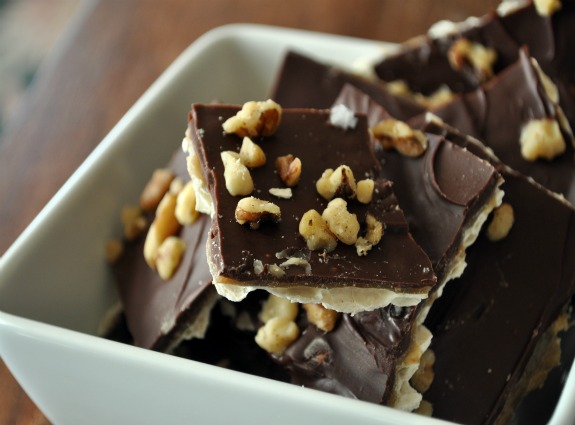 So if you're looking for a Passover dessert, or you want to be the coolest neighbor on the block, or maybe you just need a quick sweet treat to comfort you while you lay in bed realizing you're not as smart as you think you are. This toffee pretty much fits the bill.
Make it.
But please, tell everyone you know that it was my idea.
Matzo Toffee
Ingredients:
1 stick (1/2 cup) butter
1 cup brown sugar
1/2 teaspoon vanilla extract
5 pieces matzo crackers
1- 12 oz bag semi sweet chocolate chips
chopped nuts & sea salt, optional
Directions:
Preheat oven to 275F degrees.
1. Line a baking sheet with parchment paper or a baking mat. Place matzo in one even layer. I had to break two pieces to make it fit.
2. Melt butter in a saucepan over medium heat. Add brown sugar and reduce temperature to low. Cook, stirring, until sugar has completely dissolved and begins to bubble. Remove from heat and stir in vanilla extract. Drizzle toffee over matzo and spread to cover using a spatula.
3. Transfer toffee-covered matzo to oven and bake 20 minutes. Remove from oven and sprinkle with chocolate chips. Wait 7-10 minutes before spreading chocolate evenly over matzo to cover; sprinkle with sea salt and/or chopped nuts if desired.
4. Transfer matzo to refrigerator and let chill at least 2 hours. Break toffee into desired size pieces.