Forget about the beautiful color, these mashed veggies are off the charts in flavor. Mashed potatoes to the umpteenth degree.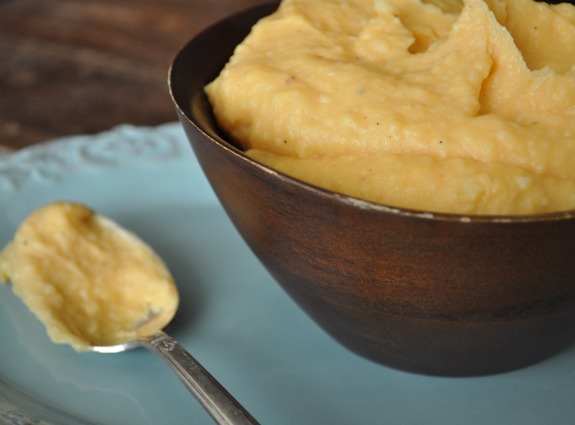 I can't tell you how much I love this vegetable medley. I think it's the perfect winter side dish. It's hearty, filling, comforting and absolutely beautiful. I make this often for clients to serve alongside roast chicken, as a bed for short ribs and I believe this would be perfect for Thanksgiving. It's like two dishes for the price of one. Mashed potatoes and yams all in one serving bowl. Score.
But as much as I love this dish, it won't be making an appearance on my Thanksgiving table this year. Or any year for that matter. I come from a long line of traditionalists. Really, it's just my dad. He's the Mayor of Traditionalville. If we didn't have regular mashed potatoes and plain old yams with marshmallows than I'm pretty sure, for him, it would mean the world was coming to an end. I guess it's fine. I don't mind making hte same dishes year after year. There is something ultra comforting about knowing that the only celery stuffing I've ever known and my grandmas cranberry sauce will be on the table.
I guess I'm sharing this recipe now in hopes that one of you will make it for Thanksgiving and then report back to me on how much everyone loved it. I can vicariously live through you and my love for winter root vegetables.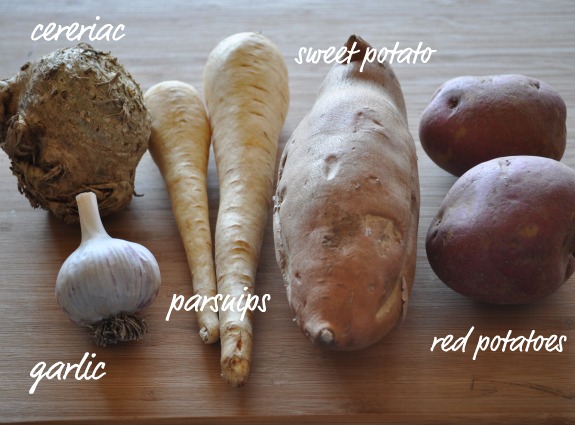 In all seriousness, let's talk about what makes this so great. We all know how delicious the yam and red potato are, right? I don't think we need to go to much into them. The lesser unknowns and the real standouts here are the Celeriac and Parsnips. Celeriac, or celery root, is a kind of celery but grown as a root vegetable. Go figure. It is low in starch and tastes mildly of celery. I think it give a nice earthy subtlety to the dish. Parsnips are sisters to the carrot. But lighter in appearance and slightly sweeter. When cooked, they are buttery and just a wee bit spicy.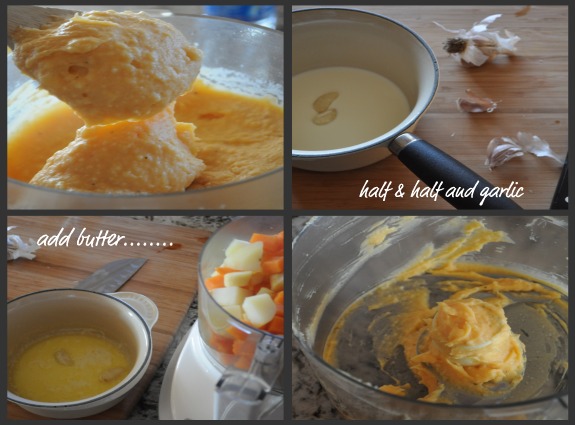 The veggies get some serious love from the garlic infused half & half and a few tablespoons of butter, adding a perfect amount of richness to make the root vegetables velvety. It's all I can do to not eat the whole lot before it's time to serve. I lick the spoon, dip the spoon in again, scrape the side of the food processor bowl with my finger just to get every last bite. I kind of love these.
And for the record, I lick the spoon after I've put the veggies in a bowl for clients. Just felt like I had to clarify. I don't want the the Health Department showing up at my house. Sheesh. That would be a buzz kill.
Root Vegetable Mash
Ingredients:
1 medium sweet potato
1 small celeriac (celery root)
2 medium parsnips
2 large red potatoes
1/3 cup half & half
2 cloves garlic, peeled and smashed
2 tablespoons butter
salt and pepper
To Make Vegetable Mash:
Place a large stock pot full of water on the stove and turn burner to high. While the water boils, prepare the vegetables. Peel and dice the sweet potato, celeriac, parsnips and red potatoes. The celery root takes a little longer to cook so place the celery root in the water first and boil for 10 minutes. Then add rest of peeled and diced vegetables and cook until done about 15-20 more minutes. Meanwhile, in a small pot, warm half & half and garlic cloves over medium-low heat. Add butter.Drain water from veggies and place cooked vegetables in a food processor fitted with the blade. Add the half & half and butter mixture (with garlic cloves) to the processor and pulse until the vegetables are smooth and pureed all the way through. Season with salt and pepper. These can be made up to two days ahead and reheated just before serving.