Ever have those nights when you just don't know what to make for dinner? When nothing sounds good or you don't have all the ingredients to make a particular dish. (Like every night? Yeah, me too.) Well, here's your answer: easy ground beef tacos. It works for me every time. These tacos always taste good and you can have a meal on the table in less than 20 minutes.

I grew up eating these tacos. A favorite of my brothers and mine, we loved them as kids and love them as adults. Most definitely one of my families favorite week night dinners. While admittedly not the most sophisticated of Mexican food this is certainly a staple meal you'll want to include in your recipe box.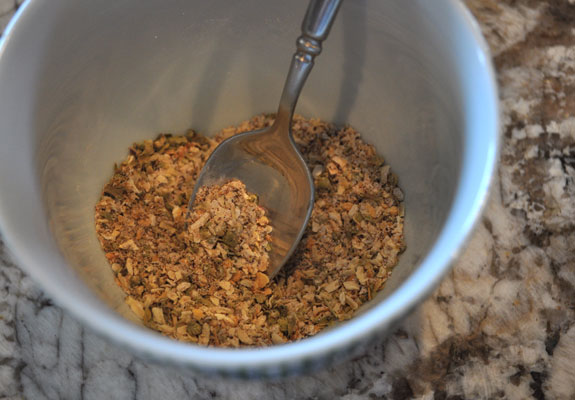 The beauty of these tacos is in their simplicity. All you need is a pound of ground beef and some dried herbs and spices. That's it. Simple, simple, simple. I like to top mine with shredded jack cheese, diced tomatoes and fresh avocado. Topped with a little hot sauce my taco is good to go.
These make great leftovers which is something coming from a gal who "doesn't do leftovers." My dad has been known to make a taco omelet with the leftover ground beef the next morning while I tend to eat my leftover meat slightly heated over some crunchy greens for a taco salad.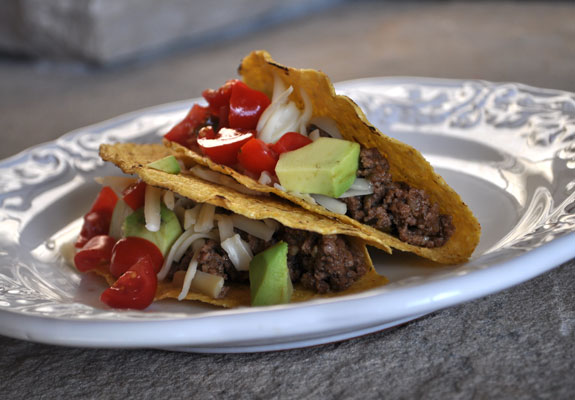 How ever you top them, reheat them, and/or eat them, these are a tried and true recipe I've been eating and making for as long as I can remember! FYI- the recipe below is written for a pretty mildly spiced taco. I've been known to kick it up a bit by adjusting the seasoning to suit my mood or the crowd I'm cooking for. I like a little more garlic and oregano in mine so feel free to use the recipe as a guide.
Enjoy!
This is an easy ground beef taco mixture and one I grew up on. It's mild, kid friendly and insures dinner will be on the table in less than 20 minutes!
Ingredients
2 teaspoons dried minced onion
1 teaspoon kosher salt
1 teaspoon chili powder
1/2 teaspoon cornstarch
1/2 teaspoon crushed red pepper
1/2 teaspoon dried minced garlic
1/2 teaspoon dried oregano
1/2 teaspoon ground cumin
1 lb ground lean beef
1/2 cup water
Instructions
In a small bowl, combine all ingredients except ground beef and water; set aside.
In a large saute pan brown ground beef over medium heat, breaking up into small pieces. When fully cooked, about 8 minutes, add spice mixture and cook 2-3 minutes.
Add water, turn heat to high, and cook, stirring often for 2 minutes more.
Serve in tortillas of your choice and whatever condiments and garnishes you fancy!
http://www.mountainmamacooks.com/2011/05/easy-ground-beef-tacos/