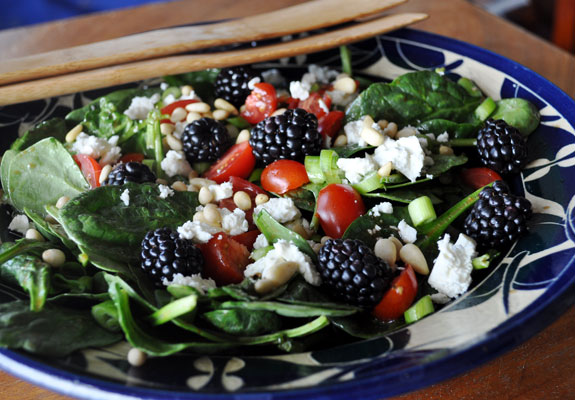 As much as I'd love for it to be spring around here, apparently Mother Nature has other plans. We've received two feet plus of snow in the past 10 days. As an avid snowboarder, I'm not complaining. Honest. I would never grumble about powder days. Some of my best days on the hill have been over the past two weeks. It's the days in-between the storms that have me vying for spring. When it's gray and cold outside, and I'm not on the mountain, I can't help but think about tulips, green grass, and letting my kids play in the backyard without having to put three layers of clothes on first. So what I can't control on the outside, I make up for one the inside, in the warmth and comfort of my very own kitchen.

It might not be spring in Utah, but it's spring somewhere and all the beautiful produce that's showing up at our local Whole Foods is testimant to that. We've been eating asparagus like it's going out of style and don't get me started on all the berries. We've been eating them any which way we can. After a long winter of subpar berries, it's nice to have them back. This salad is part two of my Easter brunch menu. It's the perfect companion to this bacon and caramelized onion quiche.
Bursting with color from the red tomatoes, green spinach and purple blackberries, this salad gets a nice zip from the green onions and feta cheese. We eat a lot of salad in our house and I'm always trying to keep it fresh by adding different ingredients. I had a container of blackberries in the fridge that needed to be used up so I thought I'd throw them in the salad for something new. The result was light, satisfying and most definitely the taste of spring. If spring won't come to you, then bring spring to your mouth. Uh, something like that.
Spinach Salad with Blackberries and Balsamic Dressing
The perfect salad to welcome spring. Spinach, feta, blackberries and a creamy balsamic vinaigrette.
Ingredients
5 oz container, baby spinach, washed
1 pint fresh blackberries
1/2 pint cherry tomatoes, quartered
2 green onions (scallions), sliced
3 oz feta cheese, crumbled
2 tablespoons toasted pine nuts
pinch salt and pepper

Instructions

In a large salad bowl, combine spinach, blackberries, tomatoes, green onions, feta cheese, pine nuts, salt, pepper.
If you'd like to dress the salad before serving, toss salad with 1/4 cup of dressing, leaving a few of each ingredients out so you can scatter them on top making the salad look pretty.
Otherwise, serve salad with dressing not the side and let people dress them selves.

http://www.mountainmamacooks.com/2011/04/spinach-salad-with-blackberries-and-balsamic-dressing/