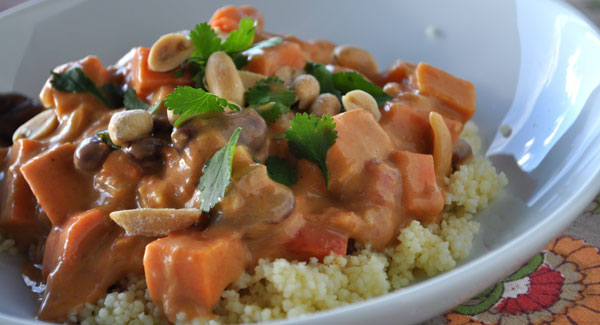 A few weeks ago, I got an email from my friend, Julie, saying she had gone to book club where the hostess served the most amazing vegan stew. In fact, she told me it was so good that she gave herself a stomach ache because she couldn't stop eating it. If I'm being honest, hearing the words "vegan stew" didn't really get me all that excited. Until she sent me another email with the recipe.

It just so happens this vegan stew includes some of my favorite ingredients and flavors: peanut butter, sweet potatoes, tomatoes, coconut and cilantro.
I was sold.
I went to the store that afternoon to buy the ingredients because I was so interested in trying it. Start to finish, this took me less than 45 minutes. Gotta love that! My husband didn't really care for it. He's not a big sweet potato guy and I think it kind of overwhelmed him. I on the other hand ate it for lunch four days in a row. I served it over a bed of steamed couscous but you could eat it as is or I'll bet it would be great over cooked quinoa as well.
A quick note: Julie's daughter has a peanut allergy and so as much as she wanted to make this at home, she isn't comfortable having peanuts in the house. I suggested she try almond butter and she said it turned out great!
I adjusted the recipe ever so slightly to make it my own~ that's how I do things.
So without further ado, the best vegan stew ….said no one ever!
The best vegan stew ....said no one ever. Until now. This sweet potato and peanut stew is so hearty and delicious, you'll forget that it's vegan! Make sure to garnish with lots of fresh cilantro!
Ingredients
3 tablespoons coconut oil
2 medium or 1 large yellow onion(s), chopped
3 garlic cloves,minced
2 red bell peppers, seeded and cut into 1/4 inch squares
1 tablespoon light brown sugar
1 teaspoon minced fresh ginger
1 teaspoon ground cumin
1 teaspoon ground cinnamon
1 jalapeno, seeded and diced
¾ cup natural peanut butter
2 medium sweet potatoes, peeled and cut into 1/4 inch cubes
1- 14 oz can red kidney beans, drained and rinsed
1- 14 oz can diced tomatoes
2 cups good vegetable stock
2 cups water
1 teaspoon salt
dry roasted peanuts and cilantro
Instructions
Heat coconut oil in a large saucepan over medium heat. Add onions and garlic and cook until softened, about 5 minutes.
Add bell pepper and jalapeno pepper and cook until softened, about 5 minutes.
Stir in brown sugar, ginger, cumin, and cinnamon, and cook, stirring, for 1-2 minutes.
Stir in peanut butter, distributing evenly throughout.
Add sweet potatoes, kidney beans, and tomatoes, and stir to coat.
Add vegetable stock or water, bring to a boil, then reduce heat to low and simmer until sweet potatoes are soft, about 30 minutes. Stir in salt.
Garnish with dry roasted peanuts and cilantro; serve over quinoa or couscous.
http://www.mountainmamacooks.com/2011/02/sweet-potato-peanut-stew/