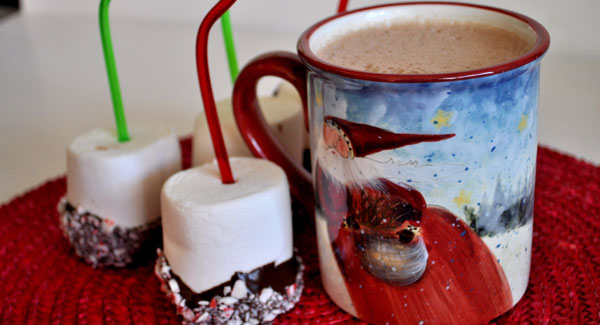 What's better than a steamy mug of hot cocoa and an oversized marshmallow to dip in it? Nothing if you ask my four year old. Though he does prefer his hot chocolate with lots of ice cubes so maybe you shouldn't take his word for it. Since discovering hot chocolate, he seems to ask for it all the time. It's become a bit of a wintertime staple around here. In fact, it might be the reason he's so interested in skiing this year. (We seem to take a lot of hot chocolate breaks.)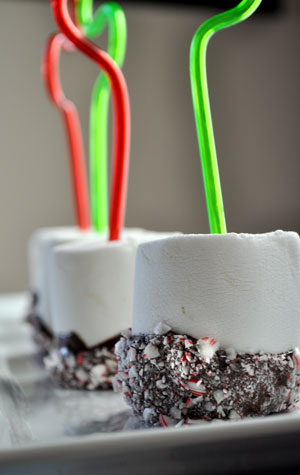 I know it's so easy to open a prepackaged mix and add some hot water but making hot chocolate from scratch is simple and it's sooooooo much tastier. And what would hot chocolate be without marshmallows? Marshmallows are hot chocolate's partner in crime. I potty trained my son with marshmallows. I still use them today to bribe him when cutting his fingernails. My little guy would probably pick marshmallows as his last meal. He loves them. So you can imagine his excitement when I told him we were going to dip them in chocolate and roll them in candy.
Add some silly straws and you have the perfect accompaniment to winter's signature drink. Feel free to add a shot of whiskey. I did.
Homemade Hot Cocoa & Chocolate Covered Marshmallow Dunkers
Ingredients
For the Homemade Hot Chocolate:

3 cups milk
1 1/2 cups half and half
8 oz chocolate, chopped (about 1/2 cup)
2 teaspoons vanilla extract

Chocolate Covered Marshmallow Dunkers:

1 cup semi sweet (or milk) chocolate chips
8 jumbo marshmallows
crushed candy canes
Instructions
For the Hot Chocolate:

In a small sauce pan over medium heat, bring milk and half to just below a simmer.
Remove from heat and add chocolate.
When the chocolate is melted, add the vanilla extract.
Reheat gently and serve with chocolate covered marshmallows.

For the Chocolate Covered Marshmallow Dunkers:

Place semi sweet chocolate chips in a microwave safe bowl and heat on 50% power for 1 minute. Remove from the microwave and stir. Continue this process until the chocolate is almost melted. Then stir until the chocolate is smooth.
Dip marshmallows in chocolate and then in crushed candy canes.
Push straw throw center of marshmallows and let sit until chocolate hardens.
http://www.mountainmamacooks.com/2010/12/a-recipe-for-homemade-hot-cocoa-chocolate-covered-marshmallows/