Let me warn you, these are addictive.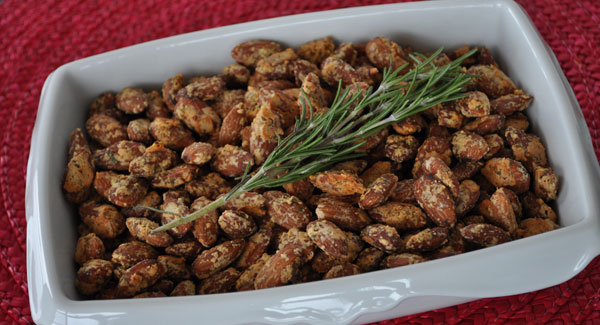 I first made these while catering for a big event during the Sundance Film Festival. It was late night, crowded and people were hungry. We passed multiple appetizers but It was so packed that it was hard to get to everyone. I'm glad I had the foresight to make a little something to put at each of the bars. It's always nice for people to have something to nosh on while waiting for a drink.
These are the perfect nibble for a cocktail party and I love to put these out when I'm having people over. You can grab a handful and keep mingling. I've made these so many times and they are always a hit.

While the perfect party snack, they are also great for an anytime snack! I'll keep a bowl by my computer or fill a small tupperware to keep in my purse or car for when I'm out and about.
With all the snow falling here, I thought these would be perfect to take to the mountain. I always like to have a little something in my pocket for an extra boost of energy when I'm snowboarding. These are great because they don't freeze (huge!), they are lightweight, and a awesome source of protein.
So whether you put a bowl out for guests before Thanksgiving dinner or in your pocket before you hit the slopes, I promise these won't disappoint!
Parmesan and Rosemary Almonds
Rosemary, parmesan and fennel seed make these savory nuts addictive. They're the perfect cocktail snack.
Ingredients
1 tablespoon chopped fresh rosemary leaves
2 teaspoons kosher salt
1/2 teaspoon fennel pollen or fennel seed, crushed
1/4 teaspoon ground black pepper
2 egg whites
1/2 cup finely grated parmesan cheese
3 cups whole raw almonds
Instructions
Heat oven to 300F degrees.
Line a baking sheet with tinfoil and spray with cooking spray.
In a large bowl, whisk egg whites until foamy. Add spices and parmesan; stir to combine.
Add the nuts and toss to coat thoroughly. Spread almonds into a single layer on the baking prepared sheet.
Bake nuts for 30-40 minutes, stirring every 15 minutes. Remove from oven and cool completely before storing nuts in an airtight container.
Nuts will last up to two weeks.
http://www.mountainmamacooks.com/2010/11/parmesan-and-rosemary-almonds/